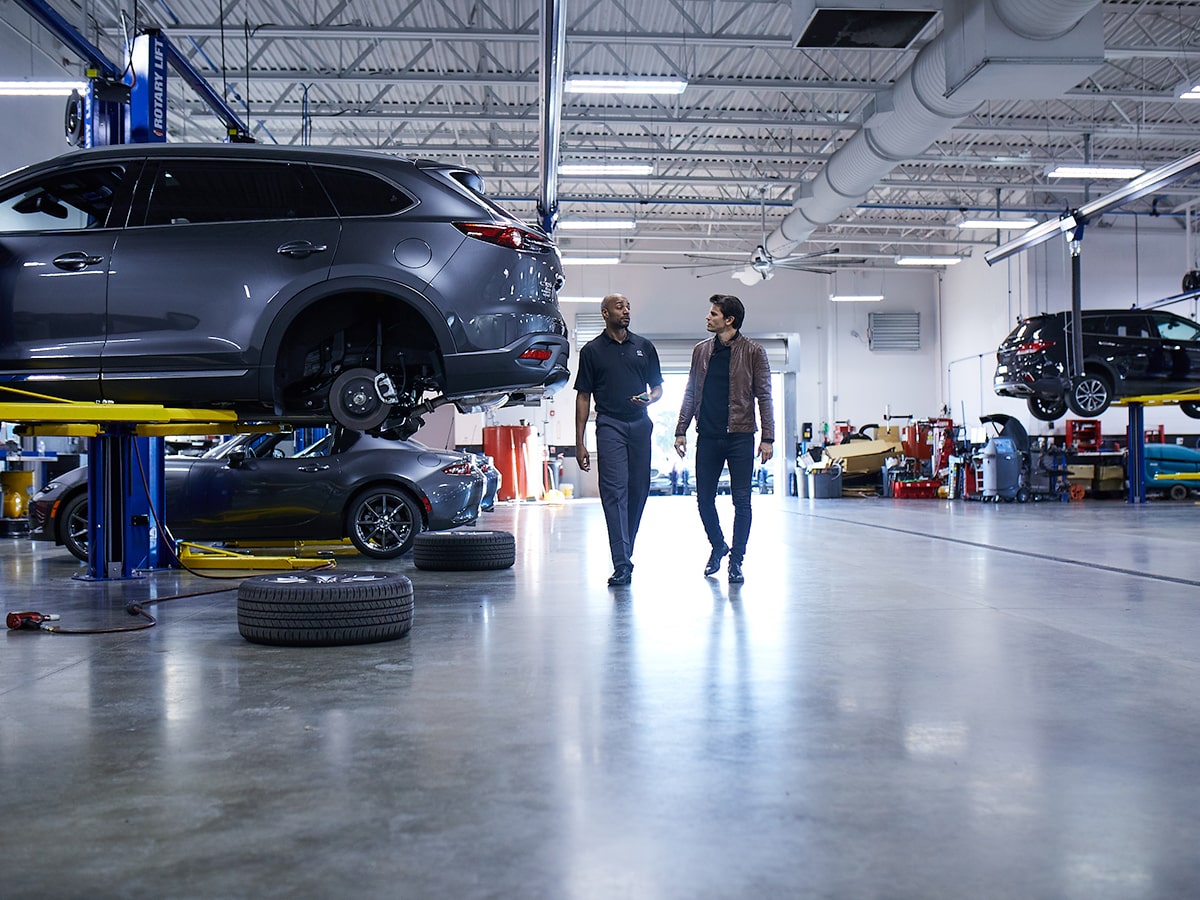 Automotive Technician Hiring Available in Columbus at Germain Mazda
If you are located in or near Columbus, Ohio, and are looking to start a career with an industry-leading brand, we invite you to apply for a technician position at Jermaine Mazda of Columbus. We are offering a unique opportunity in the automotive service industry that will not be around for long. We are looking for candidates with good social skills, various backgrounds and skill levels, and high service standards. If you are interested in joining our service team at Jermaine Mazda of Columbus, please apply for our technician position today.
 Apply Now
Benefits of Working at Germain Mazda of Columbus
There are many benefits to working at Jermaine Mazda of Columbus as a service technician. First, we offer on-the-job, paid training so that you can further your skills and expertise. This allows you to take your career further, with the experience needed. Additionally, we offer employee leave benefits, such as holiday pay, vacation days, and sick days. You will also have the opportunity to work alongside certified Mazda technicians within a family-owned and operated business. With many loyal customers who return each year for service, you will find this position both rewarding and challenging.
Preferred Background for Our Service Technician Position
Whether you are just starting in your technician career or are an experienced veteran, we invite you to apply for this position. We are interested in a variety of backgrounds, skill levels, education, and experience. If you have worked at a service shop previously, that is preferable but not required. We hope to find someone who has high service standards, is self-motivated, and can work in a fast-paced environment. You must have a strong work ethic and good social skills to interact with our many customers.
Duties and Responsibilities of Mazda Service Technicians
Our Mazda service technicians are expected to complete routine preventative maintenance services and specific repairs and install replacement parts. These services must be completed in a timely manner, with attention to detail, and with the proper method. You will be expected to follow manufacturer and dealership protocols and guidelines, as well as local, state, and federal regulations. Daily, your main job role will be diagnosing underlying car trouble and resolving the issue through maintenance and repairs. For replacement parts, you will need to communicate with your counterparts in our parts department. You will be expected to document work performed and test the system following services to ensure proper functionality.
Apply to be a Service Technician at Germain Mazda of Columbus, OH
We hope you will apply today if you are interested in a service technician position for our service center at Germain Mazda of Columbus! If you have any questions, please feel free to reach out to us. You can be a part of an incredible team that is heavily involved in Community Outreach Programs.
  Apply Now
---
Germain Mazda of Columbus Service Department Amenities
Family Owned & Operated
Heavily involved in Community Outreach Programs
Mazda Free for 3 Maintenance Program
Trained Mazda Technicians